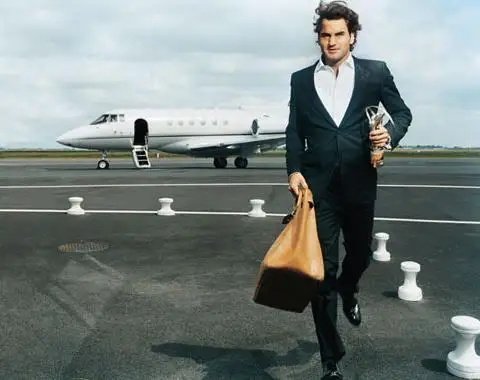 Ever since my presentation I said I was a professional trader and that my favourite market is tennis. Since then I've received multiple e-mails and, more recently, PM's asking me about my tactics, emotional control and how it is like to live off the income of this job.
How is it like to live off the income of this job?
I'll flip the questions around, starting with the last one, because I think that it's the most pertinent and the one which probably causes the most problems to newcomers.
The appearance of "Sir" PauloR was paramount to clearing many doubts and misconceptions about betting and trading and, I must confess, it was great to see someone have such a great success in this activity, to put an end to the "that's no life, that's just a game" talk of a lot of the people to whom I revealed what I did for a living.
I must admit there is some truth about it, though, because in order for x to win y has to lose, while others will win regardless of the outcome of the events, through rigorous trading.
This last example is of live traders, we live on those moments where each second might define our success and any kind of indiscipline may send us tumbling down the winning ladder.
So, it's fundamental to take some security measures (€), otherwise your activity will be short lived.
What I'm saying is that whoever choses to live off trading profits will have to have a decent amount of support money and only then should they start working exclusively in it.
In my case, I decided I had to have 6 times the amount I wished to get as a monthly income. Therefore, if I wanted to have a 2000€ wage, I would have to have 12000€ available in the bank to begin with.
Apart from this amount, I also needed money to bet, my bank, which would have to be big enough to allow me to win 2000€ every month.
This is one of the drawbacks of this job. As we do not know what tomorrow will bring, we have to have backup plans and, obviously, not everyone has the liquidity to place these high amount protections into place.
Of course you can just choose an amount and throw yourselves into it, but I highly doubt that, in the long run, you will have the success you imagine because we are not talking about money that you don't care about losing, we are talking about the money that puts the food on your table and the clothes on your back.
So, the first tip of this article is, think long and hard before trying anything out because, with the financial difficulties everyone is facing nowadays is becomes very easy to overshoot, believe me that it is way easier to lose hard than to win.
What I usually say to people in the business is that, the greatest advantage of this job is not so much the money itself, but the freedom that it gives us.
We make our own schedules which gives us enough time to lead a normal and fulfilling social life that would probably be incompatible with a "normal" job.
Be careful though. Despite being a demanding profession, it can get very addictive and if you get there it will no longer be a job, it will be a disease. If you get addicted to it causing your mental and physical health to suffer, then ALL your strategies will be -EV. So, be extremely careful with these factors.
Emotional control:
Let's talk a bit now about emotional control, which is arguably the trader's worst enemy, either amateur or professional.
I'll focus solely on the tennis market, since it's the one I'm most comfortable with, the one where I know the "traps" and one that is vastly different from horse racing or football.
In tennis there must be an almost automated, robotic, control in order to be able to handle the pressure that this market puts upon us, this happens because tennis is, among all the markets, the one with the highest liquidity and the largest odd swings on the shortest time periods.
Whatever your strategy is, defining clear entry and exit points is fundamental, this is a market where software is essential and there are no suspension periods, so it's possible to control these limits.
You'll have to be ready to deal with a red on the screen, since it will be a constant presence throughout your career. What matters is that greens become more frequent than reds. That's it!
In this sport, it's important to follow the match live, with as little delay as possible and have reliable tech gear that won't let you down in key moments, since any small glitch may imply big losses and ruin your work.
The worst thing is that this may influence your subconscious and you'll lose emotional control.
Conclusion: bet like machines. Act like robots and in the long term you are sure to have a profit. Don't cling too much to one match, like a dog holds on to a bone. There will be other matches to recover, it's not worth risking it all because the striker is having a bad day and can't even score a penalty shot.
Tactics:
Let's address tactics. I don't have a pre-set strategy laid out for my work, since like I've said before in the tennis topic, every match has a different background and we can't use plain strategies over and over again.
There are, however, strategies that work fine in some circumstances but not in others, like in any other market.
I won't be getting into this at this point, since I plan on addressing this issue on another trading demonstration topic about the US Open.
Information: the much talked about "advantage";
I do wish to talk about an issue that seems to outweigh others mentioned in this topic: INFORMATION.
As you may have noticed, odds @20 in football, in tennis or any other sport are worth just as much, right? But are the corresponding probabilities the same?
Let me give you an example:
To get a @20 odd in football the score must be very uneven to justify it, since comebacks aren't all that frequent in this sport.
What about tennis? Well, there are plenty! There are so many odds @20 or even higher that one is led to think that maybe in tennis we have access to better odds than in other sports, as long as you have access to good information (the so called "advantage").
From early on I've come to realise that tennis is a sport played by single players, which means it's easier to get to know all players very well and there aren't as many variables as in football, for example. Therefore, it's possible to study in detail the routines, the habits, etc. of all individual players, as well as watch all the matches they play.
Sure enough, in tennis there are many variables, but not as many as in football, in which there are 22 players, the referee, the supporters, the conditions of the pitch, you name it!.
Since there aren't as many variables, it's easier to predict outcomes.
In the last few years, I've concentrated my efforts in trying to answer this question: Is it possible to use psichology and information efficiently in tennis trading?
To make my point clearer, let me give you a few real examples form the last days.
If you check my forum comments, you'll notice I don't usually participate at 'live comments in tennis matches', simply because certain comments may influence the less experienced to make mistakes, leading them to lose money. I wouldn't want to be responsible for that
Since I've never been particularly interested in giving "tips" or "picks", I decided to make a few live comments, without knowing if anyone was paying attention to what was going on.
» Djokovic x Fognini
ATP 1000 is just around the corner, is Djokovic truly motivated to win an ATP 250 tournament at home? The odds sure indicate that.
Quote from: aezk 6 May, 2010, 20:12 20
"Can you guys tell me when Djokovic is to start competing at the Madrid Masters?"
Truth be told, I do have a list of all players registered to compete at Madrid Masters, so it was just a tip for those at the forum. I would never say there was a 20-30 odd coming when I wasn't sure.
The match begins. Djokovic's attitude is undisguised, he immediately suffers a break and my mental alarm tells me this will be a jackpot match.
Djokovic sure isn't much interested in this tournament!
...And yet he won! Simply because Fognini wasn't interested in winning a few thousand Euros that he surely needed more than Serbian. Perhaps he didn't notice Novak was offering him the match!
After the end of the match, I commented on the topic:
Quote from: aezk 6 May, 2010, 20:22 20
"Fognini got 2 breaks and then doesn't follow through. When that happens Djokovic can't help but win."
Quote from: aezk 6 May, 2010, 20:54 20
"Is there any logic to this match?"
Therefore, I decided to watch the match again in detail, since I had recorded it, liek I always do.
After reviewing the match, I was even more convinced that Djokovic wasn't interested in this tournament, since there wasn't much money at stake, nor were there that many ATP points to be won and influence the ranking.
I then decided to check who he was to face next, to see if there would be any more @20 odds.
Well... he has up against Krajinovi, who had just eliminated Zeballos.
A few issues come to play:
How would elimination in the hands of a young Serbian player affect his image at home?
There sure would be no problem, since people would be more focused on the achievement of the young player than on his defeat in a small tournament.
But these are all theories about the match. What about external factors?
The tournament is played in Serbia, so Novak Djokovic is playing at home and is the best ranked player. Naturally his countrymen are behind him and support him all the way.
But no family members came to see him play? Where is his girlfriend, his friends or his parents, who often come to support him at home?
At the end of the match against Fognini he didn't celebrate or thanked the support of the fans. Something didn't add up!
The following match against the young Serbian would confirm or deny my theory.
Odds @20 for Krajinovi? The crowd cheers the kid and once again no family or friends are there to support Djokovic. He started the match with the same attitude he displayed against Fognini.
PERFECT! This is the match in which he gets eliminated!
...and he sure did.
Krajinovi? He won the first set easily and Novak was sure to lose. But the young Serbian didn't even have to break a sweat, since Djokovic withdrawn from the match. Showing he sure wasn't interested in this tournament, since he didn't even come up with an injury.
After reviewing the match, I noticed many mistakes which a Djokovic in his best shape would never make more than once or twice throughout a match.
The moral of this story: Jackpot.
» Federer x Montanes
Let's move on to Estoril Open, a tournament I usually watch but don't work with, because of the low liquidity. But given the opportunity I was "forced" to trade on it.
After Ljubicic and Monfils withdrawn, someone mentioned Federer. My answer was:
Quote from: aezk 6 May, 2010, 12:36 12
"He will never withdraw, he's the face on the tournament poster"
Obviously, Federer would never do that, since he was paid good money to play and we all know his ethics would never allow him to give up.
In the match against Clement it was clear that Federer wasn't 100% focused, but like Fognini, Clement was able to fight for the win. Anyway, a top player like Federer would never be eliminated in such an early stage of the tournament.
Next he faces Montanes, the current tournament champion, who is usually strong in clay. Therefore, he surely wouldn't make life easy for Federer.
Is Federer going to be eliminated from the Estoril Open?
If he loses he won't have to withdraw like the others and will have achieved his goals. Moreover, if he loses against Montanes it will be no shame, since this is the tournament champion and a strong player in clay, while Federer hadn't played that many matches in clay.
It's plausible, since Federer is to play the Madrid ATP 1000 soon.
Odds @8. Perfect!
My "tips" at the forum where:
Quote from: aezk 6 May, 2010, 13:47 13
Quote from: Diogo Carvalho 8 May, 2010, 13:39 13
"Anyone who believes in fixed believes in Gil for today?"
Federer and GGL must leave the tournament for Gil to have a shot at winning the tournament.
If you're looking forward for Gil to win the tournament, you won't want Federer in the final, since there is no way Gil can beat him in the final. However, he can be eliminated by Montanes, since he has already won this tournament.
There is some logic to it anyway, since Federer is to play at the Madrid Masters 1000 next week.
I didn't bet any money on the Gil match, since there wasn't much liquidity, but the Portuguese player did win the match.
What about Federer? Ah, he did lose 2-0 and didn't even make an effort to disguise the result.
Moral of the story: Jackpot.
Information efficiency
These are just 2 examples of recent matches, but there were others, like the Berdych x Petz match that had odd @80 and in which it was clear that Berdych didn't want anything from the tournament.
There are matches like these every month, obviously in strategic situations of the ATP calendar.
My intention isn't to state that I have a high winning rate or that my tips are excellent. In fact I know I'm not that good, or I would be a punter and not a trader.
What I'm good at is getting information and analysing it to become good at what I do, since in this trade you need to work hard to stay ahead in the game.
The point of this article was to show you that there are many factors to take into account, which must all be taken into consideration to build the puzzle.
In the end this is what trading is all about; an activity in which everyone has their share of the information and will try to profit from it.
Good bets and trades guys!
aezk